PRO LS All-In-One Face Treatment - Limited Edition Bonus Size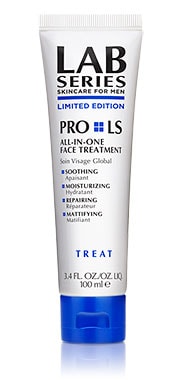 PRO LS All-In-One Face Treatment - Limited Edition Bonus Size
Description
Global best seller, incredible value. Super light, fast-absorbing moisturizer checks multiple items off your daily routine—it is an efficiency expert. Delivers four skin benefits: soothes, hydrates, repairs, and controls shine. One and done. Made to simplify your morning routine and streamline the contents of your travel or gym bag.
How Does it Work
1. Immediate Soothing - employing our patented MPD-8 Complex™. Helps calm the look of irritation and redness.
93% of men felt skin was instantly calmed, smoothed, and looked refreshed.
2. Instant Moisture - replenishes hydration, while over time helps to rebuild and fortify skin's moisture barrier. 99% of men felt skin was instantly moisturized.
3. Damage Repair - helps diminish the appearance of lines and wrinkles. After 4 weeks, 88% of men saw the appearance of lines and wrinkles was minimized.
4. Shine Control - with our patented iMatte™ technology to help instantly absorb oil. Leaves skin looking clean and less shiny.
93% of men instantly saw shine-free skin.
Who it is For
Formulated for all skin types.
When will it arrive?