Rescue Water Lotion - Travel Size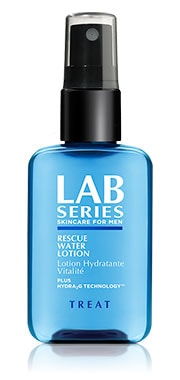 Rescue Water Lotion - Travel Size
Description
Skincare game changer now comes in a smaller size, ideal for travel. Light liquid lotion with heavy hydrating properties tones skin and delivers instant, refreshing moisture. Helps soothe irritation and leaves skin feeling calmed and comfortable. Over time, skin appears smoother, brighter, more refined—rescued with water-fresh hydration.
How Does it Work
Boosted with Hydra2G Technology ™, this quick-absorbing toner helps attract and bind water to the skin's surface, replenishing and optimizing moisture levels—an essential element of healthy-looking skin. Completes the cleansing process by removing risidual impurities on skin's surface and gently exfoliating away dead skin cell build-up. Stabilizes skin's pH post-cleanse, optimizing the reception of following skincare products.
Who it is For
Formulated for all skin types.
When will it arrive?